Leadership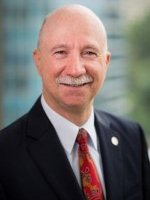 SCIENTIFIC AND EXECUTIVE DIRECTOR OF CONRAD
As part of the 30 year-long CONRAD program, Dr. Doncel is the Scientific and Executive Director and Principal Investigator. Dr. Doncel works on reproductive health, contraception, mucosal immunology, HIV-1 prevention, microbicide development, and the unique aspects of microbicide interactions with the cervicovaginal (CV) mucosa. With NIH and USAID funding, Dr. Doncel began working on HIV microbicides in 1990. As a key member of CONRAD leadership, he directs multi-project, multi-institutional R&D efforts, especially on anti-HIV and contraceptive product development. He has served or is currently serving as an advisor to the International Partnership for Microbicides, NIH/NIAID (as reviewer and member of working groups), European Commission Research Directorate General, European microbicides development consortia (EMPRO and CHAARM), and the World Health Organization. He has published extensively on microbicide development, contraceptive and infertility research and mucosal safety. Dr. Doncel received his M.D and Ph.D. from the University of Buenos Aires, Argentina, and performed his Postdoctoral work in Reproductive Immunology from the Eastern Virginia Medical School.
Publications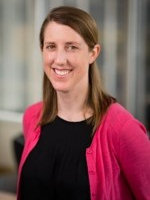 Senior Director of Operations / Assoc Professor of Obstetrics and Gynecology
Dr. Clark is a biomedical engineering-trained R&D operations leader who over the last 12 years at CONRAD has served in various capacities, including Manager of Drug Delivery, Director of Preclinical Activities and Product Development, Technical Lead, Program Manager, Principal Investigator (PI) and co-PI on numerous R&D projects sponsored by USAID, NIH and the Bill & Melinda Gates Foundation. She is currently the Sr. Director of Operations at CONRAD and an Associate Professor in the Department of Obstetrics & Gynecology at EVMS. With deep knowledge of CONRAD operational and program management processes and systems, Dr. Clark is thoroughly qualified to successfully implement interdisciplinary R&D programs supporting innovations in women's and global health. Dr. Clark received her B.S. in Neurobiology, Physiology and Behavior from the University of California, Davis in 2001 and her Ph.D. in Bioengineering from the University of Utah in 2008. Her passion is working with others to drive change that creates meaningful and positive impact. Her research interests are in the conceptualization, design and implementation of innovative proof-of-concept preclinical-to-clinical studies and research strategies to advance promising new women's/global health technologies and potential solutions to some of the world's greatest unmet needs, and enabling their translational development.
Publications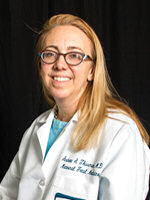 Director of the Clinical Research Ctr / Professor of Obstetrics and Gynecology
Dr. Thurman is the Director of the Clinical Research Center at EVMS. She is the site Principal Investigator for CONRAD Clinical Trials and is a Principal Investigator on several commercially funded studies related to women's reproductive health. She is an investigator for the NICHD Clinical Contraceptive Trials Network. She works closely with the CONRAD laboratory on clinical and pre-clinical projects, including statistical analyses and data management. She served as the technical leader for CONRAD cooperative agreements focusing on adherence to HIV PrEP and incorporating human centered design to increase uptake and adherence to PrEP by young women in South Africa. She is the project lead and site PI for an NICHD grant examining mucosal immunity in premenopausal and postmenopausal women. With over 9 years of experience at CONRAD, she has worked on dozens of CONRAD clinical projects focusing on different dosage forms for both oral and topical PrEP, multi-purpose prevention technologies and the interaction between exogenous contraceptives and reproductive tract infections on mucosal susceptibility to HIV. Dr. Thurman received her B.A. (summa cum laude) in Chemistry and Studio Art from Kenyon College in 1990. She received her MD from the University of Chicago Pritzker School of Medicine in 1994 and did her Obstetrics and Gynecology training at Bethesda Naval Hospital. She was previously a staff physician at US Naval Hospital Yokosuka Japan and was on faculty at the Medical University of South Carolina and the University of Texas Health Sciences Center San Antonio.
Publications